As a quarterback, my biggest challenge has been my size compared to other quarterbacks. I have always been one of the smaller players on the field, and this has presented some difficulties for me. However, I have been able to overcome this setback by utilizing my speed and IQ to close the size gap. I have found that if you're faster and smarter, it can really make up for any size deficiencies you may have.
My pre-game routine is very important to me. I like to start by stretching out my shoulders, chest, and back. I do this by paddling my arms or pulling each of my hands while making small circles simultaneously. Next, I do dropbacks sideline to sideline, starting with slow to fast movements. I then do short quick steps to long slow bounds. Lastly, I hop into some routes on air, usually starting with a simple hitch route. I find that this routine helps me to get in the right mindset for the game and also helps me to warm up my body properly.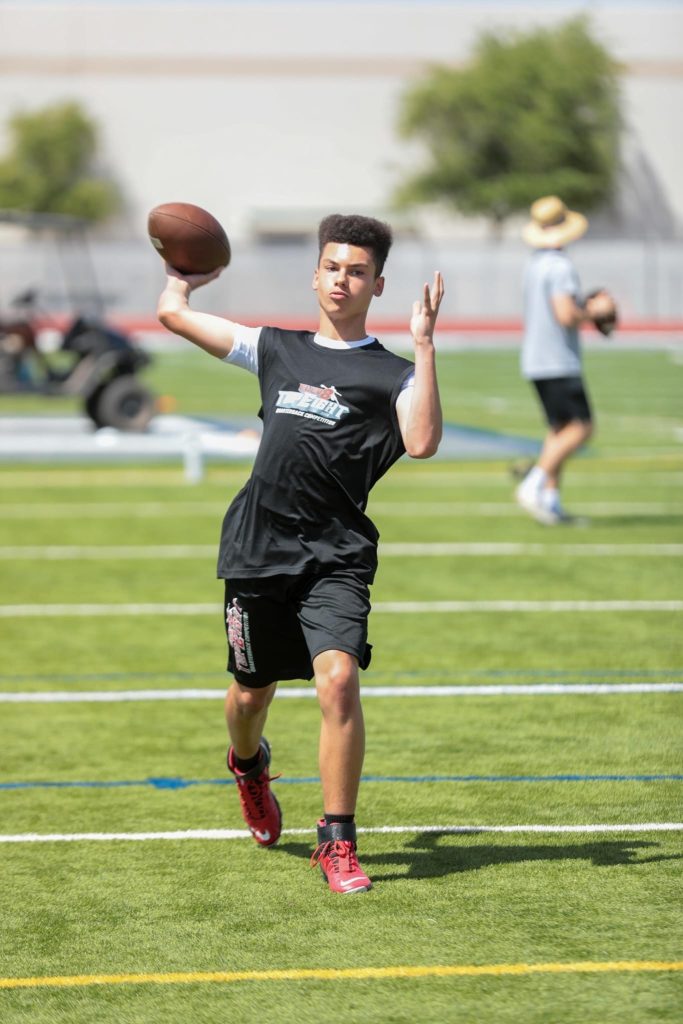 The most influential coach or mentor in my football career has been my dad. He's the reason I'm able to throw a football to this day. It's definitely helped that he won a state championship in high school and played at the University of Wisconsin. He has always been there to teach me the ins and outs of the game, and I am incredibly grateful for everything he has done for me.
If you're just starting out as a quarterback, my advice to you would be to not worry about how far you can throw it. Start by mastering shorter throws with proper form. Once you have mastered the shorter throws, your game will only go up from there. This is something I have learned throughout my own experience, and I have found that it has helped me to become a better quarterback.
I have faced setbacks and injuries during my football career, but I have always found ways to handle them and continue to improve. For example, I had a foot injury this season, which was definitely unfortunate. However, I was still able to watch film and lift weights that didn't agitate my foot. I find that it's important to always find ways to continue to improve, even when you are dealing with an injury.
During the off-season, my training routine includes attending quarterback camps and workouts. I take what I learn at these camps and apply it back at home, whether it's with some teammates I called up for a throwing session or just at the park with me and my dad. I find that this helps me to stay sharp and continue to improve.
My most memorable moment in my football career was my first rushing TD on varsity. Even though I made it to the front pylon, it came with a cost. I was hit in the head while diving into the end zone. There were no injuries, but it was definitely my "welcome to the league" moment. It's a moment that I will always remember and cherish.
My name is Zehren Hilton, I am a junior at West Ranch High School in Stevensons Ranch, CA. I have been playing football for 10 years now and I enjoy it because of the pressure and competition that comes with being a quarterback. My favorite current professional quarterback is Patrick Mahomes, and my goal for the next 6-12 months is to improve my arm strength so it's no longer a weakness. I also enjoy playing basketball and have attended quarterback camps in the past, where I enjoyed the accuracy nets that challenged quarterbacks to throw to live receivers.